Elopak products
Matte White
Board
What you feel is what you get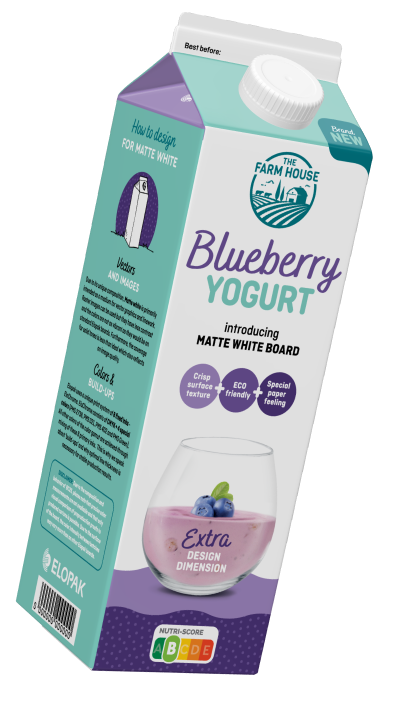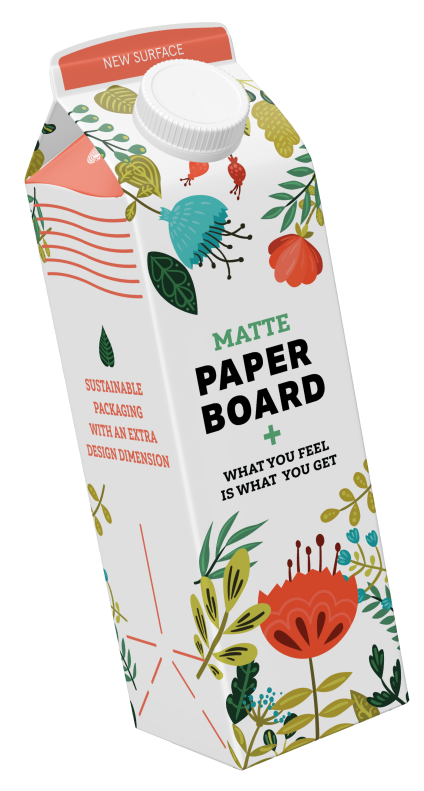 Matte white is Elopak's latest packaging material. Thanks to its special matte finish this new board provides an extra design dimension, while making the cartons feel like real paper with a rougher surface.
The special surface treatment which enhances the fibers and the natural paper feel of the board leaves the surface uneven and coarse and leads to changed ink absorption. This primarily affects the uniform printing of solid colors and the behavior of the smallest printed dot. Vector graphics are preferred to images, while soft shadows and fade-outs have a more subdued visual effect.
Show & Tell
The mockup bellow will guide you through common design elements and help you to better understand Elopak process requirements.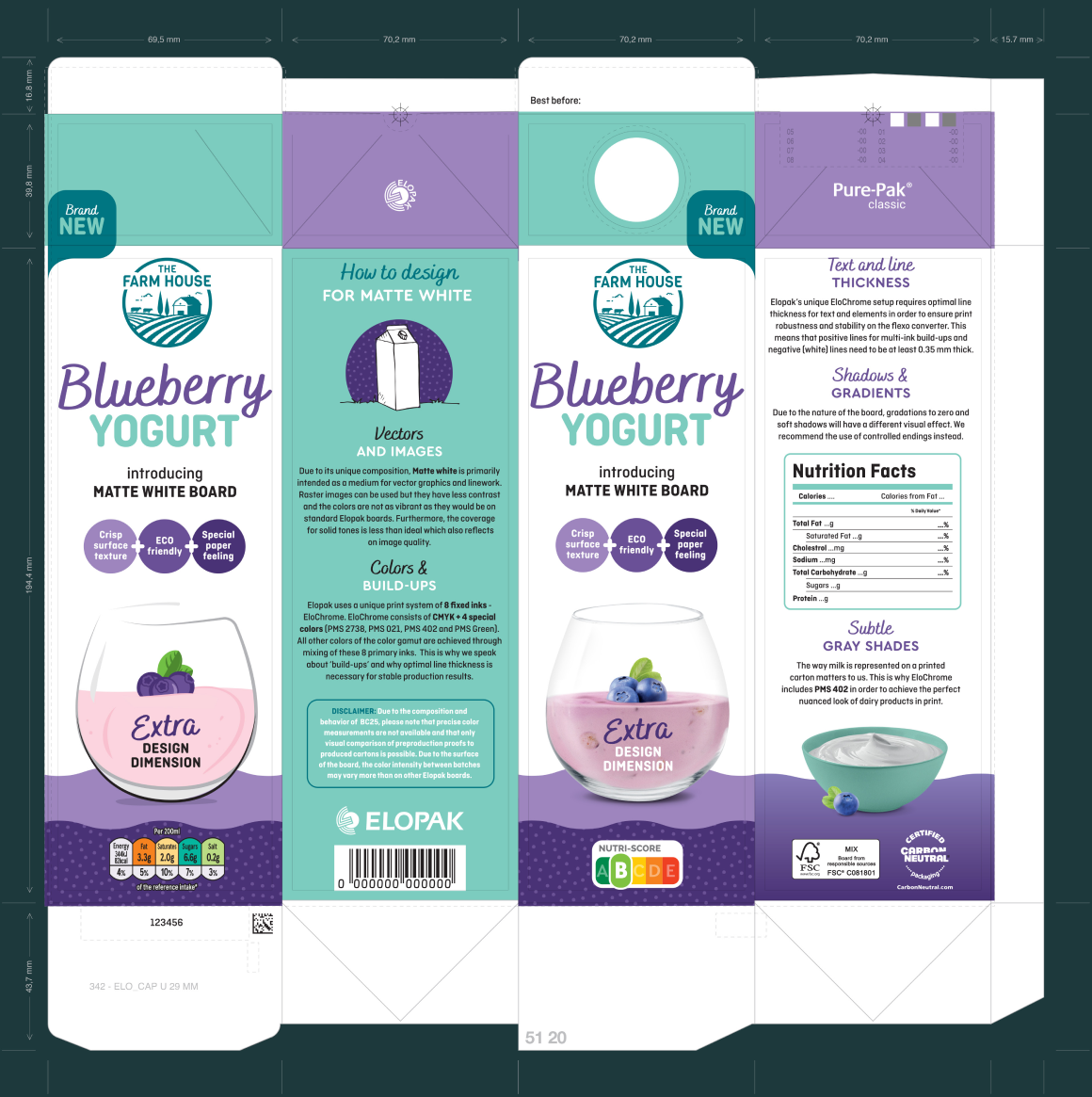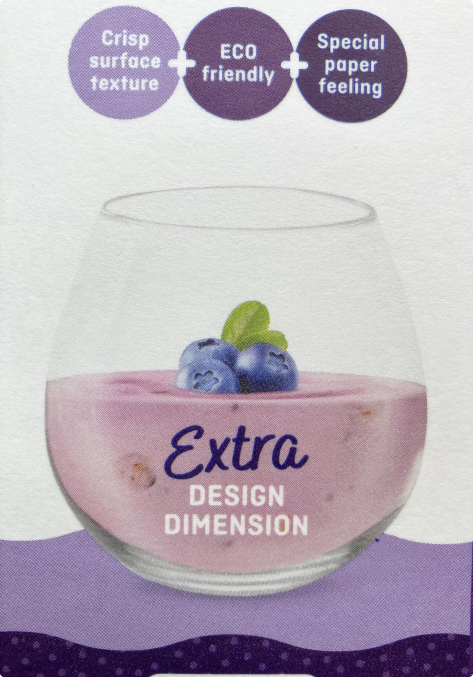 Appearance of color
Colors printed on Matte white generally appear less bright than on other Elopak white boards. Highlights may become cloudy, while larger areas covered in ink may show imperfections during the process of printing. When used, stand-alone black ink generally appears lighter — therefore a rich black color build-up is recommended for large text and graphic elements.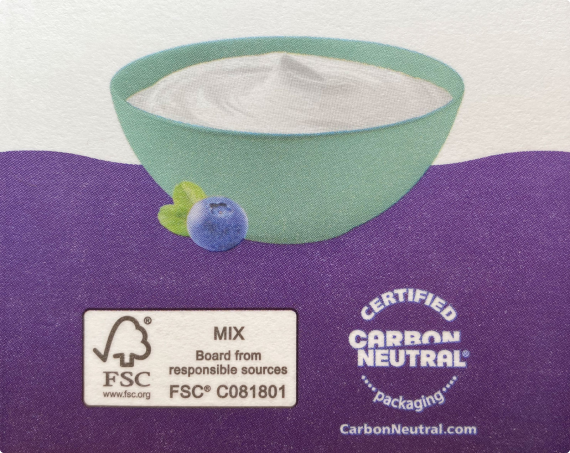 Good practice
Based on experience, we recommend the use of mid-tone color values rather than overly dark/light color shades, vector graphics rather than raster images, as well as the use of pure inks rather than color build-ups for smaller text and linework.
It is generally recommended to keep the printed area and ink coverage limited and to instead utilize the value of the unique matte board surface.
When designing for this new board, we strongly suggest that you contact Elopak prior to starting the creative process.
Matte White Board
Artwork compliance checklist
Summary table
Screen ruling: 136 lpi (54 l/cm)
Print files PDF
Open files Adobe Illustrator, Adobe InDesign, ArtPro
Always package links and fonts.
Outline all text.
Document/image color mode
No Color conversion.
Don't include color profiles.
Include layers where applicable.
Illustrator raster effect settings
Rasterize gradient mesh objects.
Illustrator PDF compatible file
Single pure ink 0,15 mm
Composite color build-up 0,35 mm
Reversed lines 0,35 mm
Maximum 3 inks allowed in a composite color build-up.
Single pure ink 5 pt sans-serif (stroke width 0,15 mm)
Composite color build-up 7 pt bold sans-serif (stroke width 0,35 mm)
Negative text 7 pt bold sans-serif (stroke width 0,35 mm)
See all text requirements
Maximum 3 inks allowed in a composite color build-up.
Elopak will ensure that all bar codes are in accordance with EAN certification.
Printing of Pantone colors